ANTONIA KUO
View Antonias work in BLACK IS A BLIND REMEMBERING
Interview by Christie Kim, Photographs by Brian Willmont and Christie Kim
Greenpoint Terminal Gallery: You work outside of the traditional sphere of photography, manipulating photographic materials and implementing different mediums into your work, how did this road of experimentation start?
Antonia Kuo: My background was in drawing, painting and printmaking, with endeavors in photography, 16 mm film and video developing in tandem afterward. Photography has always been on the sidelines of my practice, but I've only actively integrated it and other photographic forms within the last several years. Working among various media has liberated my process in many ways. It addresses the same concerns, but from different angles, a variance in pace. I'm interested in the transformation that occurs within the layering of processes and materials.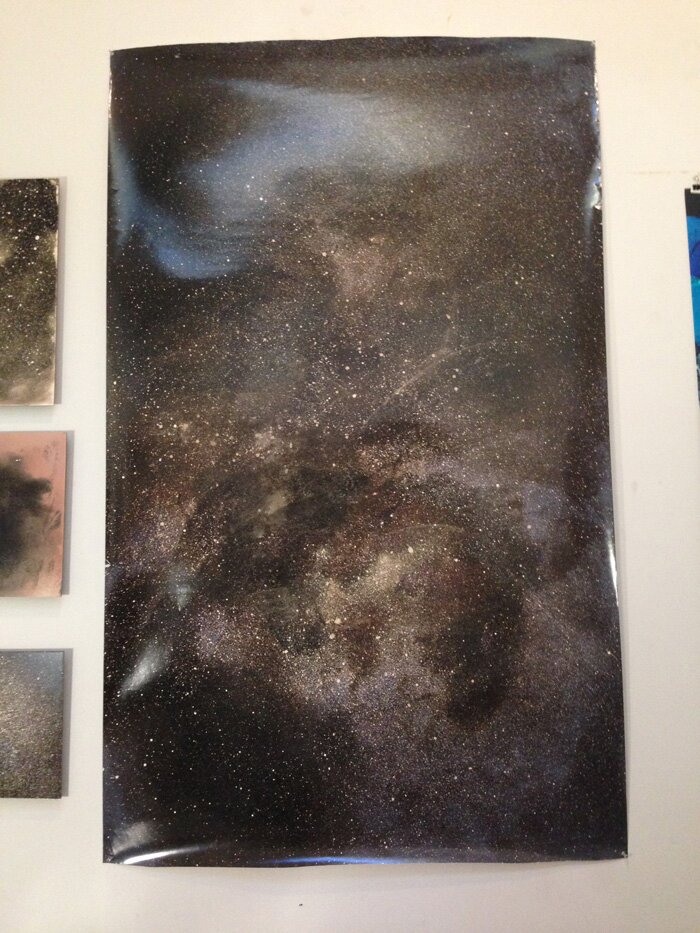 GTG: Most of your works seem to have a dark, trancelike disposition in relation to the cosmic world and nature. How did this develop?
GTG: The affinity to darkness, the cosmos and nature stems from our relationship to the Unknown, to vast systems of energy and chaos. The work as a reflection of these unrelenting systems, mental states, anxiety…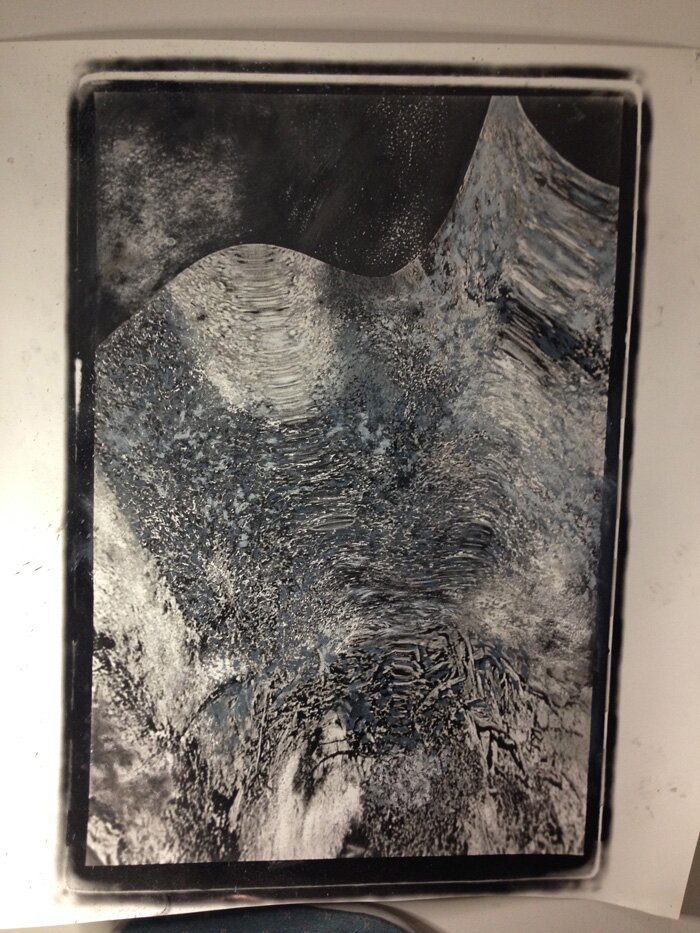 GTG: You've been working with chemigrams for the past year. What drew you to working with chemigrams? Could you briefly describe your chemigram projects and its results?
AK: I was drawn to chemigrams primarily because it enabled me to paint freely, beginning with a blank slate (the exposed paper). Dilutions of various photographic chemicals are applied to the surface of the paper, coaxing out dormant colors and tonalities. I was interested in creating simulations of the cosmos, images of the intangible that are themselves impermanent; in their unfixed state, they shift, degrade or darken.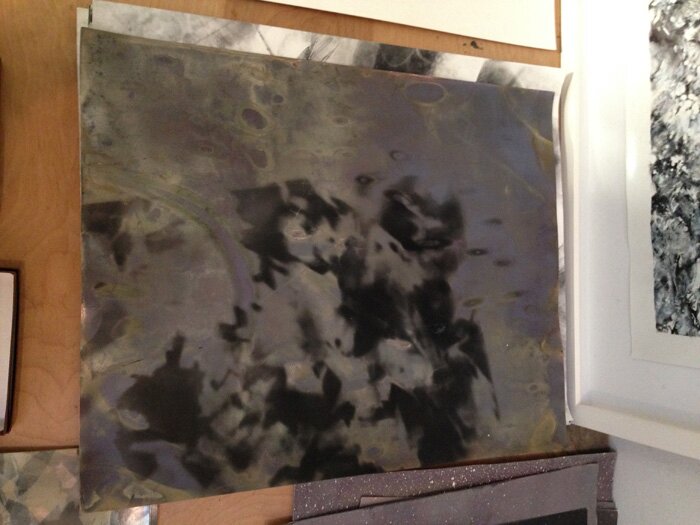 GTG: Your experimentation with photographs and other media has transitioned into working with 16 mm films. In a sense, they are a collage of all your works. What kind of manipulations have you done for your 16 mm film projects?
AK: Been working on several 16 mm projects, some incorporating elements from my drawings, paintings or photographs, stop motion animation, collage, found footage, or abstractions shot in camera. As with the other works, I'm also concerned with film as material, experimenting with hand processing techniques; painting developer, fixer, toners, etc. I have, also, been pursuing making my own emulsion for 16 mm.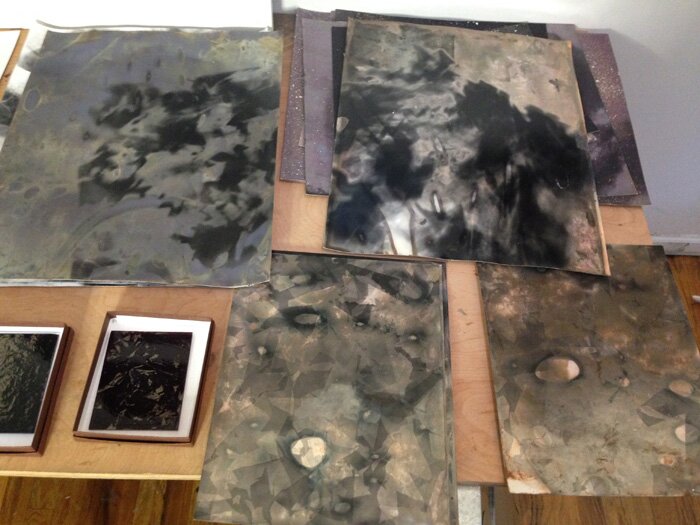 GTG: You were recently awarded with the MacDowell Colony Fellowship, congratulations! What are your big plans at the MacDowell Colony?
AK: I plan on doing more darkroom experimentation, continuing with chemigrams, hand processing 16 mm and large format negatives, making enlargements and contact prints from painted negatives, manipulating prints through drawing, painting, collage, sanding, etc. I hope to continue some longer term drawing and painting projects as well. Especially, I'm really looking forward to a level of seclusion and productivity, walking in the woods.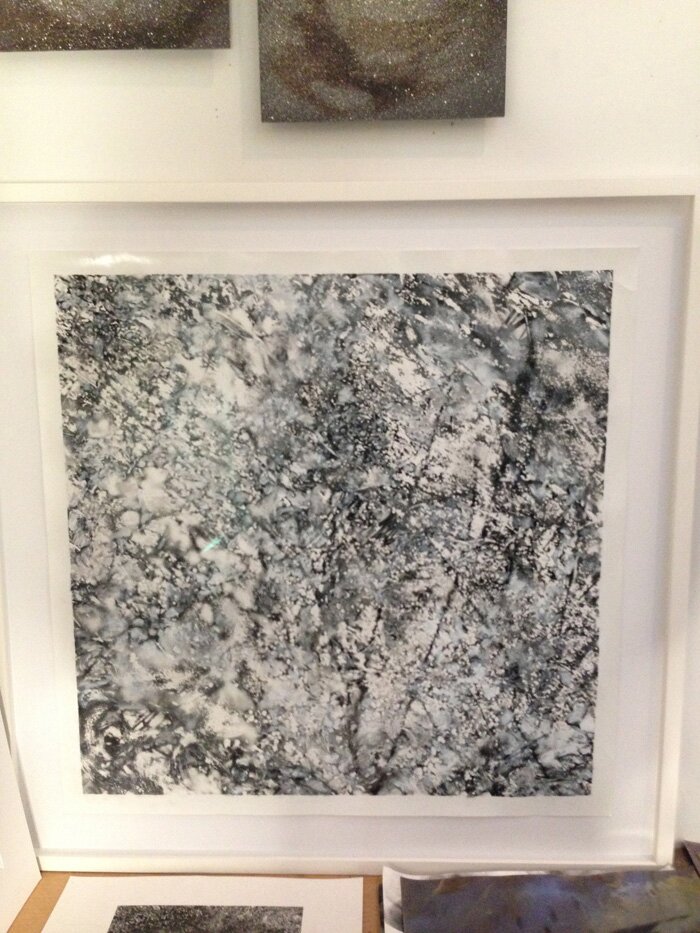 GTG: In your studio, I've seen couple of your works that were in color. Are you abandoning color from all your works?
AK: I've never abandoned color, but have preferred the work to be as open-ended and nebulous as possible, exploring texture and form without alluding to associations with certain colors. More significantly, there is a particular resonance I feel in the nuance and ambiguity of black, white and greys — the psychological allegories of light and dark, the known-unknown, obscurity and fleeting moments of awareness.